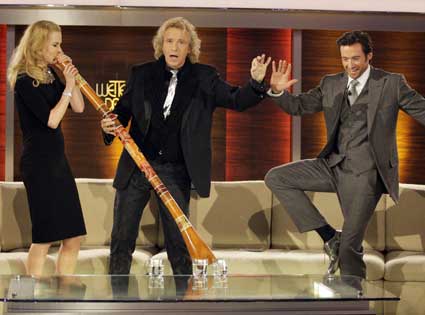 Nicole Kidman
was cursed for life after blowing into that didgeridoo. It is really bad news for the
sexy celebrity
who has been celebrating motherhood and is yearning for a second child.
This taboo or curse (whatever you call it) could be just an age-old superstition but if you were to ask the Australian Aboriginal people, then it is true.
Here's what happened... Kidman was in Germany to promote Australia, that sweeping love letter to her native land. During a stop at the German TV show Wetten Dass, someone gave Kidman a didgeridoo, an instrument central to the culture of Australia's Aboriginal people. Then she blew and got into hot soup.
Award-winning actor and screenwriter Richard Green told the Sydney Morning Herald: "It bastardizes our culture. I will guarantee she has no more children. It is not meant to be played by women, as it will make them barren."
Well, how can
Nicole Kidman
reverse her ill fortune? It is incredulous that a musical instrument can deactivates the ovaries just like that, it makes abortion clinics sound irrelevant.
But then, cultural traditions are meant to be respected, so maybe Nicole can make a trip back to the tribe and ask for forgiveness.